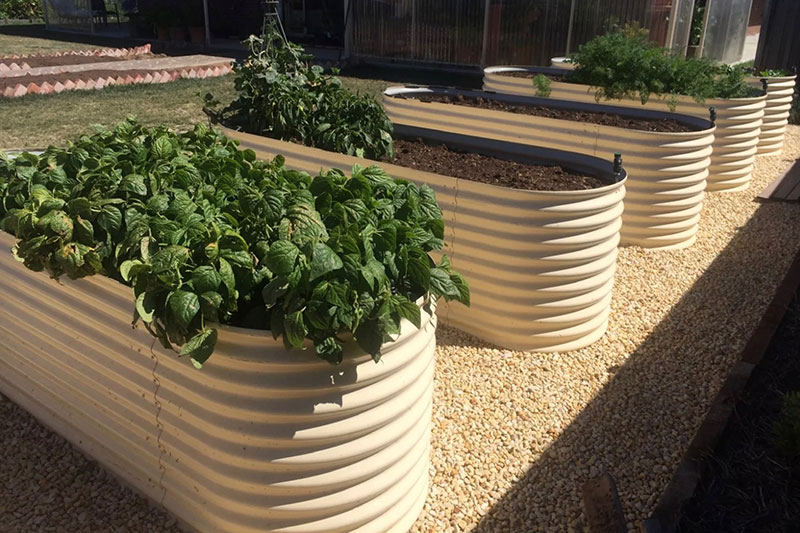 CUSTOM MADE RAISED GARDEN BEDS
Grow your own organic herbs and vegetables using our custom made raised garden bed. Manufactured using high quality galvanised steel and full colour bond colour range we have a great range of garden beds to choose from to suit any size outdoor area.
We can custom make your own raised garden bed to suit your space or choose one from our huge range of colours and sizes in stock.
How deep should a raised bed garden be?
A raised bed does not have to be very deep to be effective. Eight to 12 inches is usually adequate. If drainage is a problem, or if the plants you are growing prefer drier soil, the bed could be taller and filled with a porous growing medium. Vegetable beds should be 12 to 18 inches deep
What do I put on the bottom of a raised garden bed?
​Other garden waste products can make for a good base layer as well. Grass clippings, dry leaves or leaf mold, trimmings from other plants, and the like can fill in the bottom of your bed. These will break down quickly into the soil, building up the soil's organic content
​Good soil is the single most important ingredient for a good garden. Raised beds give you an immediate advantage over a regular garden, because when you fill your raised bed, you can fill it with a blend of soil that's superior to the native soil in your yard. Soil that's loose and rich with nutrients and organic matter will allow the roots of your plants to grow freely, and ensure that they have access to the water and nutrients they need to sustain healthy growth